Being nominated for any award by our peers for doing something we love is always a humbling experience. Especially when you are in a category among friends and people that you have known and admired for years.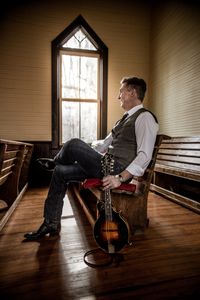 Actually winning the award is a feeling that is unlike any other. 
Taking home this year's IBMA Mandolin Player of the Year award was an extremely meaningful experience for highly respected, veteran picker,  Alan Bibey. 2019 marked a fantastic year filled with chart topping hits from his first all Gospel release with Grasstowne, "Gonna Rise and Shine," on Morning Glory Music, the new Gospel label owned by Mountain Fever Records. Bibey also took home his fifth win for the SPBGMA Mandolin Player of the Year in February, joined by two of his Grasstowne bandmates, Laura Orshaw for fiddle and Zak McLamb for bass. 
Winning the IBMA Mandolin Player of the Year award was a very unexpected surprise to add on top of the excitement this year has already produced. It seems like everyone in bluegrass, musicians, industry professionals and others in the category alike agreed that Alan Bibey was a most deserving recipient of the award. More than a week later, the congratulations are still coming in and when we caught up with Alan on the road, he had this to say: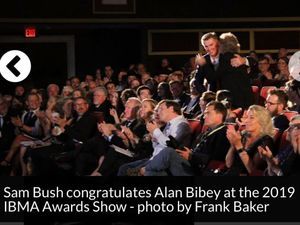 "I want to say another huge THANK YOU to all The IBMA voting members for the Mandolin Player Of The Year award. I never dreamed I would win but I have always dreamed of being the best mandolin player I can be and I'll continue this passion with even more fervor than ever and do my best to make you all proud of your decision. It means more to me than words can express!" 
Bibey will be back in the studio after the first of the year to work on his next bluegrass project that he hopes to release by Spring of 2020 and also looks to record a mandolin instrumental project. With the success and love shown for "Gonna Rise and Shine," he indicated that we should not be surprised to see another Gospel project in the next few years as well. Alan also keeps busy with his popular music camp, the 5th Annual Alan Bibey Mandolin and Guitar Camp will be held Aug 19-22, 2020 in Surfside Beach, and has grown into a very well attended event. Of course, touring with Grasstowne takes up a large chunk of time and he looks forward to seeing all of his friends and making new ones out on the road. 
We are certainly proud to have Alan carry the title of 2019 IBMA Mandolin Player of the Year, and look forward to reaping the rewards of many more years of his selfless contributions to this music that we all love. They are music to our ears. Thank you Alan.