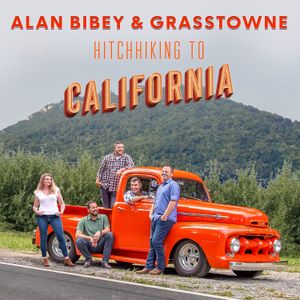 New Album to be Released January 29 
Pre-Orders Available Now 
Nashville, TENN --- Alan Bibey & Grasstowne is set to deliver Hitchhiking to California this month; the group's  debut project on Billy Blue Records. 
Pre-orders for the highly-anticipated album are live today, January 8, 2021. The album will be released on January 29th. 
Hitchhiking to California is the group's 6th recorded project; its first on Nashville's booming, young bluegrass label, Billy Blue Records. The project features 11 tracks, including the chart-topping title cut, which was released to radio in the Fall of 2020. The song reached #1 on the Bluegrass Today Weekly Airplay Chart. 
Of the title cut and its successful reception, Bibey says, "That song was strong 35 years ago and it holds up today. I'm really happy with how it came out. This lineup is just the right group of killer players and singers for the new version, and I was ecstatic to see it top the Bluegrass Today chart." 
A second radio release, "Blue Collar Blues," will hit radio airwaves on Friday, January 15th. 
Leader of the band, Alan Bibey, is a multi-award winning and Grammy nominated artist known for his exceptional mandolin mastery. He is joined by Justin Jenkins on banjo, Zak McLamb on bass and vocals, Tony Watt on guitar, Kati Penn on fiddle and vocals, Ron Stewart on guitar and fiddle, and Patrick M'Gonigle on vocals. The multi-award winning duo of Darin & Brooke Aldridge guests on the track, "Daddy and Me." 
Although the group is generally considered a contemporary band, Bibey grew up on traditional music, and his dedication to the genre shines through, whether on an inspirational song, or a driving, upbeat track. 
"I've thought about a concept or theme album, but our goal here was just to make a great bluegrass album and we chose songs with that in mind," Bibey says.   
First hitting the scene in the early 1980's, Alan has earned a reputation as one of the most creative and technically gifted mandolinists in bluegrass and acoustic music. He was an original member of the groundbreaking bands The New Quicksilver, IIIrd Tyme Out, and BlueRidge. For nearly a decade now, he's fronted Alan Bibey & Grasstowne. Alan won the SPBGMA "Mandolin Performer of The Year" award for 2007, 2009 and 2010. He won the IBMA "Instrumental Album of the Year" in 2001, "Album of the Year" in 2006, "Recorded Event" in 2012 and SPBGMA "Album of the Year" in 2008. Alan took home back to back 2019 and 2020 IBMA Mandolin Player of the Year honors and the 2020 SPBGMA Mandolin Performer of the Year. His band Alan Bibey & Grasstowne took home the 2020 IBMA Gospel Recording of the Year.  
Bibey signed with Billy Blue Records in early 2020. "It's been such a good experience," Alan says. "Everyone is so interested and involved. It's a great team, and working together has been a total pleasure." 
Among his many accolades, Alan was included in the Mel Bay book, "Greatest Mandolin Players Of The Twentieth Century,"and in 2004, the Gibson Company put into production the Alan Bibey Signature line of mandolins. Quite simply, Alan Bibey is one of the most influential mandolin players in bluegrass and acoustic music history, with an ever-growing string of hit singles and albums. Hitchhiking to California continues the tradition. 
Hitchhiking to California is available for pre-order through the artist website and online everywhere great music is sold, including Amazon. 
ALAN BIBEY & GRASSTOWNE 
HITCHHIKING TO CALIFORNIA 
RELEASE DATE: JANUARY 29, 2021 
BILLY BLUE RECORDS 
TRACK LIST 
01. HITCHHIKING TO CALIFORNIA 
02. BLUE COLLAR BLUES 
03. I WANT TO BE LOVED (BUT ONLY BY YOU) 
04. LONESOMEVILLE 
05. RHYTHM OF THE RAILS 
06. MESSIN' WITH SASQUATCH 
07. I DON'T KNOW WHEN 
08. TAKE THE LONG WAY HOME 
09. CRIME AT QUIET DELL 
10. DADDY AND ME (FEAT. DARIN & BROOKE ALDRIDGE) 
11. WHEN HE CALLS MY NAME